Roaches in Apartment Lawyer in Los Angeles
The Cockroaches Have Moved in! What Are the Dangers? What Are My Rights?
Los Angeles Attorney for Roaches in Apartment
At first you see one or two cockroaches scuttle across your kitchen counter. Within days, turning the light on in the middle of the night reveals their increasing numbers.
Once you see a couple of cockroaches, they soon takeover. A female produces hundreds of offspring a year, and they survive in the most adverse conditions. Beyond their cringe factor, their unsightly presence makes your hogar an unhygienic place to live. Extra cleanliness does little to impact their growing swarm. Spot treating with sprays and traps does not address the issue because they hide in a variety of unseen spaces.
Cuéntenos sobre sus problemas
Roaches in Apartment Law Firm
Start the ball rolling by making an official complaint to your landlord. He or she may try to shrug off the issue or try to blame you or other tenants for the problem. However, an infestation of cockroaches is not an issue to be ignored and legally they are bound to address the issue properly.
In most cases, California law dictates that bug and pest infestations render apartments uninhabitable. If you are having serious issues with cockroaches, your landlord has a duty to remedy the situation.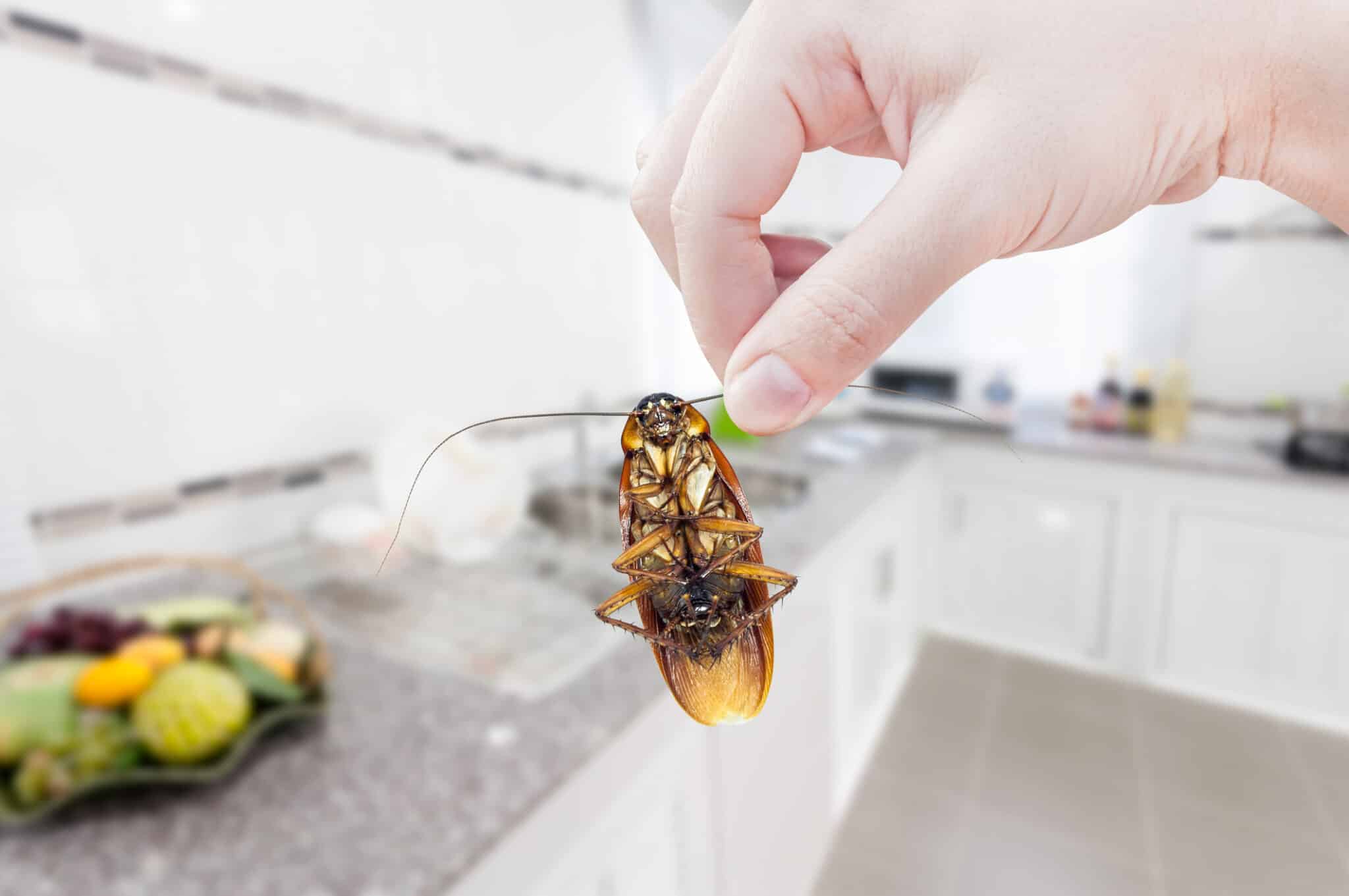 Llame para una consulta gratuita
Cockroaches carry and spread a wide array of diseases, bacteria, and germs. Their droppings and saliva can cause E. coli, salmonella, typhoid, urinary tract infections, digestive problems, and sepsis. People with compromised immune systems are especially in danger.
When cockroaches are eating, they defecate on their food source and any other surface that they come across. Their feces contain bacteria, dead skin, and empty eggshells. If you eat food contaminated by a cockroach, you can suffer from severe food poisoning.
Cockroaches can both cause and aggravate respiratory issues. The saliva that cockroaches continually secrete contains hundreds of allergens that can cause rashes, sneezing, and itchy, watery eyes. Cockroach infestations can also worsen existing allergy symptoms and asthmatic issues.
You have the right to a sanitary living space if you?re paying rent. Professional extermination is the only way to address the problem.
Llame para una consulta gratuita
The Implied Warranty of Habitability
Under California law, the implied warranty of habitability is a promise given to keep your rental unit habitable. The landlord must maintain the premises in a safe, working, livable condition, which means fixing issues as needed.
This warranty is not a part of your lease and exists no matter what your oral and written lease says. If the landlord breaches this promise and your apartment becomes unlivable, you may have the right to fix a problem yourself and deduct the cost from rent, move out without a financial detriment, or sue the landlord for compensation.
Llame para una consulta gratuita
Give Your Landlord Written Notice of the Cockroaches
The first step is to notify your landlord immediately of the infestation. Report the cockroach issue in writing as well as by talking with your landlord. Retain a copy of the letter or emails for your own records. This secures proof that your landlord was aware of the issue and refused to address it.
Obtain proof of your cockroach problem: photos, videos, a report from a pest control professional. Once you have notified your landlord, allow for reasonable time for repairs/pest eradication.
Llame para una consulta gratuita
Under California law, your landlord has about 30 days to deal with an insect infestation. If you have not heard back from your landlord or had an exterminator visit your apartment within 30 days, it is time to take the necessary precautions to secure your apartment as a safe living space.
If the cockroach issue is not handled within 30 days of an official complaint, here are some of your options:
Take the matter into your own hands. You can hire a professional exterminator to handle the problem. Make sure that the cost of treatment isn?t more than one month?s rent. Save the receipt and deduct the cost from your rent.
You should contact an experienced tenant rights attorney to assess your best possible options and to create a plan of action. If you ?repair and deduct? incorrectly, you could be out a lot of money.
If the landlord refuses to address the infestation, you may move out of the apartment and break your lease. You can also abandon your lease if your living conditions are unsanitary and a compromise to your health.
With legal consultation and representation, you can end your lease through the right channels and get your security deposit back without fear of paying for the rest of your rental contract.
To learn more about your rights regarding cockroach infestations, contact a professional attorney from Brinton Law Firm. Our lawyers can guide you through this unpleasant situation to secure hospitable living conditions.
erika bradberry
2021-12-20
La Firma Brinton manejó nuestra
arrendatario
asunto de manera profesional, eficiente y oportuna. Incluso durante el confinamiento pudimos resolver nuestro asunto electrónicamente. Matt y Yoselyn se mostraron confiados y eficientes durante todo el proceso.
claudia lozano
2021-12-20
Trabajar con este equipo, ¿cuál es la mejor decisión jamás libre de estrés, libre de preocupaciones? Recomiendo encarecidamente la firma Brinton. Gracias a Nick Solish, recuperé mi confianza, gracias, los recomiendo mucho, cualquier día, en cualquier momento.
Daniel Sánchez
2021-12-17
La firma Brinton fue muy útil en mi caso de moho en el que los propietarios no querían hacerse cargo del problema. Matthew, Priscilla y yoselyn fueron de gran ayuda durante todo el camino. ¡¡¡Yo definitivamente los recomendaría!!!
feliz mc innis
2021-12-17
Mi situación involucraba serios problemas de moho que la propietaria insistía en que yo había causado. Durante el proceso de descubrimiento, recordé haber llamado a la oficina para discutir sus acusaciones falsas y nadie respondió. Pensando que la firma me estaba evitando. Este no era el problema, estaban extremadamente ocupados. Nick Solish me llamó para calmar mis miedos y animarme a ser paciente y no rendirme. Me tomó un año hacer la diferencia, pero valió la pena. Muchas gracias y éxito continuo para el bufete de abogados Brinton y mi abogado NICK Solish. Felicia A.
Isidro Henríquez
2021-12-17
Este bufete de abogados es excelente, los abogados son muy eficientes y receptivos. Nuestro abogado, el Sr. Nick, nos obtuvo un excelente resultado. Me gustaría recomendarlo a todos los que tienen problemas con los inquilinos. Gracias, Sr. Nick.
Charlyn Gillam
2021-12-17
Absolutamente recomendaría esta firma a cualquier persona que haya pasado o esté pasando por lo que estoy pasando. Matt, Erica y Yoselyn han sido geniales. Realmente luchan por ti. Recomiendo encarecidamente sus servicios.
Entreprovestors Incorporated.
2021-12-17
¡Asombroso! ¡Asombroso! ¡Asombroso! Estos chicos saben exactamente lo que están haciendo. ¡Si tiene la bendición de que la firma Brinton tome su caso, lo más probable es que gane! Cruzan todas las T y definitivamente salpican las I. Son muy detallados y específicos con una estrategia para conseguir el éxito. Muy profesional, muy rápido, y tiene un equipo de personas que saben cosas. ¡Me alegro de haber usado sus servicios! ¡Sin arrepentimientos!
shannon borges
2021-12-16
¡Nuestra experiencia con Nick y sus asistentes legales fue realmente una bendición! ¡Me alegro de haber encontrado The Brinton Firm! Estas personas realmente entienden su negocio y brindan el mejor servicio al cliente que he recibido al trabajar con un bufete de abogados. Gracias Empresa Brinton. shannon borges
Grandes personas aquí. ¡¡Honesto, sencillo, amable, cariñoso e inteligente!! Recomiendo encarecidamente esta empresa y, si tiene la suerte de encontrarlos y ser representado por ellos, es muy probable que resulte favorable para usted. Escuche sus consejos, y si su caso tiene alguna posibilidad de ganar, Matthew y Nick lo resolverán. ¡Buena suerte!
leticia martinez
2021-12-16
La firma Brinton superó mis expectativas. Nick solis trabajó muy duro para garantizar que mi caso tuviera el mejor resultado posible. Los aprecio y su capacidad para permanecer en estrecha comunicación conmigo durante todo el proceso. Gracias por toda tu ayuda. ¡Altamente recomendado!